---
The 22 – 23 Season Theme is SUPERPOWERED. Learn more at this link.
What is FIRST LEGO League? 
The text below is how FIRST describes it.
"FIRST LEGO League introduces science, technology, engineering, and math (STEM) to children ages 4-16* through fun, exciting hands-on learning. FIRST LEGO League participants gain real-world problem-solving experiences through a guided, global robotics program, helping today's students and teachers build a better future together. In FIRST LEGO League, students engage in hands-on STEM experiences, building confidence, growing their knowledge, and developing habits of learning."
At the Middle School, we do the FLL Challenge.
FIRST LEGO League Challenge – Grades 4-8:
Friendly competition is at the heart of the Challenge, as teams of students ages 9-16* engage in research, problem-solving, coding, and engineering – building and programming a LEGO robot that navigates the missions of a robot game. As part of the Challenge, teams also participate in a research project to identify and solve a relevant real-world problem.
Superpowered Season Teaser
The Middle School FIRST LEGO League (FLL) Teams are starting to form. For the FLL Teams to be successful, parents and their children must commit to supporting a team of up to five students over the course of five to six months. 
Download and Read the FLL Challenge Overview PDF
FLL is a robotics program that introduces young people to the fun and excitement of science and technology.  Teams can comprise up to ten children, although the DA size is 4-5 members. FLL teams have adult coaches, but coaches do not need any technical experience. 
In FLL, the children do the work — like programming an autonomous robot using a LEGO® MINDSTORMS® or the  SPIKE ™ Prime robot set to score points on a thematic playing surface and create innovative solutions to a problem, all while being guided by the FLL Core Values. These three elements — the Robot Game, Project, and FLL Core Values — make up the yearly "Challenge." Teams will also talk to experts in the fields of study related to the yearly challenge.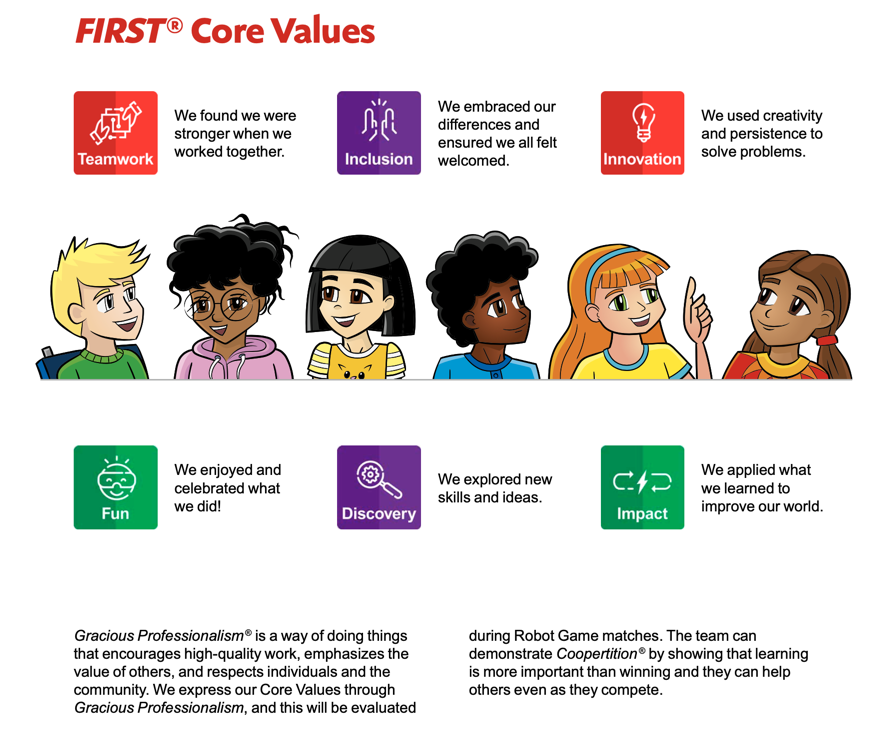 We need at least two parents to serve as coaches (one coach supervises robots, and one coach supervises projects) and two parents to serve as team supporters per team to have teams. Without parental support, this enrichment is not possible. 
Teams work toward an official FLL qualifying tournament(s) which are typically held in November. Qualifying teams advance to a state tournament or even a national tournament!
Team Requirement Highlights:
General – Team members must make all decisions and do all the work on the Robot Game and Innovative Project. This includes deciding on strategy, building, programming, researching, choosing a problem and innovative project, and presenting at a tournament.
Size – DA Teams have a cap of 5 members. 
Team Members – Students must be between the ages 9 – 14.
Coaches – An FLL team must have a minimum of two (2) screened Lead Coaches. 1 coach supervises robots, and the other coach supervises projects.
Team Supporter – Teams can benefit from having adults present to help them but not be the actual team coach. If you agree to be a team supporter, you will be matched with your child's team. This role requires the least time commitment as the supporters can coordinate the days they will be available with the team's coaches. 
Learn more about these roles at the new FIRST training site to learn what those roles require. https://www.firstinspires.org/mentoring-and-coaching/story.html
Meetings – Team practices will occur each Thursday afternoon from 3:30 – 5:00 when DA is in session [August 25th – December 15th*]. Meetings will be held in the Middle School STEAM labs and Library each Thursday. All meetings must be held at the Middle School.
Saturday practice sessions are also available during a 9:30 – 12:30 time frame.
Sunday practice sessions are also available during a 1:00 – 4:00 time frame. Coaches and Team Supporters determine the time frame for Saturday or Sunday sessions [September 10th  – December 17th*]. 
*Depending on the outcome of FLL qualifying tournaments held in November for the State Tournament.
Critical Details and Information:
Parents and their children commit to a team of up to five students over the course of five to six months, from August to February*.
Students must be between the ages of 9 – 14
On each team, two parents serve as coaches (one coach supervises robots, and one coach supervises projects)
Two other parents serve as team supporters.
Without parental support, this enrichment is not possible.
In the past, we have fielded up to 4 teams with 8 students per team. This was very suboptimal.
We have Spike Prime and EV3 Mindstorm kits with many spare parts, all organized in portable storage containers.
We have 3 competition boards for practicing robot missions.
All supplies needed have been purchased by the DA Computer Science Department, which will continue to support the FLL program.
Mr. Karl Schaefer has managed the FLL program for over five years and will assist the teams with registration, purchases, and overall coordination of practices and teams.