11/16/21 Season Update:
I wanted to let you know that the 4 First Lego League (FLL) teams competed last week in virtual judging events and an in-person robot mission run. The FLL Challenge this year was about Cargo and how it is moved around the world. A pretty current events topic for sure.
We had 4 teams which are the most the Middle School has ever fielded at one time. With the help of many parents serving as coaches and supporters, Fabrice Fortin, Elliott Turnbull, and Young Adult Mentor and former FLLer, Shreya Rao we prepared hard since August to be ready. 

The teams are:
#17134 DA Cav Squad
Coaches: Adiel Cohen and Kim McWhorter
#52735 Robo Sapiens
Coaches: Xiang Cao, Daniel Jiang, and Celia Wu
#31861 Robonators
Coaches: Venkat Shanmugavadivel, Patrick Gunsch, and Mary Roederer
#25598 Robo Dragons
Coaches: Lauren Hong, Allison Aiello, and Jill Moore
Elle C.
Sadie S.
Grace G.
Max B.
Christopher H.
Vincent C.
Solomon H.
Natalie M.
Kayla C.
Andy S.
Sophie M.
David J.
Andrew H.
Ruoxuan Jenny G.
Harrison B.
Valen M.
Judson R.
Lingaa V.
Austin G.
Emmanuel H.
Qingxin Clare L.
Willem S.
Everett H.
Connor L.
Kieran H.
Basel Al-H.
Yash M.
Zaden V.
Jack G.
Teams are evaluated on 4 areas: Core Values, Robot Design, Innovative Project, and Robot Mission Runs. Judges use a standard rubric for the first 3 while the highest score of 3 robot runs is what determines the "score" for the robot.
The Core Values are the most important aspect of FLL and in my opinion, the hardest for teams to do well at, and over the years it has been the weakest aspect of the many teams' DA has put together. While I wish all teams could have advanced to state not all did. The #17134 DA Cav Squad and #52735 Robo Sapiens put together a good season but fell short in advancing to the state tournament. We will process the end of their season this Thursday.

The #31861 Robonators had a great tournament and advanced to state thanks to strong robot runs, Core Values, and innovative project. In fact, the team won the Innovative Project award with their modular ship design called MS Cavalier.

The #25598 Robo Dragons also had a great tournament and advanced to state thanks to strong robot runs, Core Values, and innovative project. In fact, the team won the Core Value award for their display and enthusiasm for Core Values. I think you can see that the work we do in FLL connects directly with DA's own values.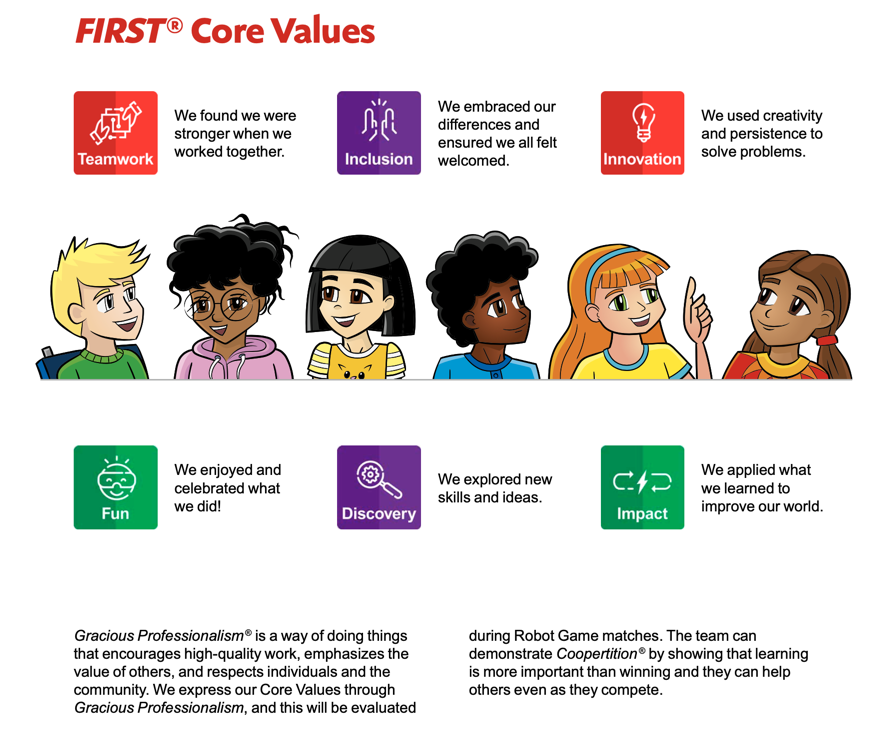 ---
Plans for the 21 – 22 Season. The North Carolina First Lego League Challenge may be hybrid having both in-person and remote events. It is quite possible that teams will do the Core Values and Innovative Solution presentations via web conference and then attend an in-person event for robot mission runs. More information will be located at https://www.ncfllandftc.com/fll-hybrid-season-structure.html
What is FIRST LEGO League?
The text below is how FIRST describes it.
"FIRST LEGO League introduces science, technology, engineering, and math (STEM) to children ages 4-16* through fun, exciting hands-on learning. FIRST LEGO League participants gain real-world problem-solving experiences through a guided, global robotics program, helping today's students and teachers build a better future together. In FIRST LEGO League, students engage in hands-on STEM experiences, building confidence, growing their knowledge, and developing habits of learning."
At the Middle School, we do the FLL Challenge.
FIRST LEGO League Challenge – Grades 4-8:
Friendly competition is at the heart of the Challenge, as teams of students ages 9-16* engage in research, problem-solving, coding, and engineering – building and programming a LEGO robot that navigates the missions of a robot game. As part of the Challenge, teams also participate in a research project to identify and solve a relevant real-world problem.
Cargo Connect Season Teaser
The Middle School FIRST LEGO League (FLL) Teams are starting to form. In order for the FLL Teams to be successful, parents and their children must commit to supporting a team of up to five students over the course of five to six months.
Download and Read the FLL Challenge Overview PDF
FLL is a robotics program that introduces young people to the fun and excitement of science and technology. Teams can be composed of up to ten children although the DA size is 4-5 members. FLL teams have adult coaches, but coaches do not need any technical experience.
In FLL, the children do the work — like program an autonomous robot using a LEGO® MINDSTORMS® or the SPIKE ™ Prime robot set to score points on a thematic playing surface, create innovative solutions to a problem, all while being guided by the FLL Core Values. These three elements — the Robot Game, Project, and FLL Core Values — make up the yearly "Challenge." Teams will also talk to experts in the fields of study related to the yearly challenge.
We need at least two parents to serve as coaches (one coach supervises robots, and one coach supervises projects) and two parents to serve as team supporters per team in order to have teams. Without parental support, this enrichment is not possible.
Teams work toward an official FLL qualifying tournament(s) which are typically held in November. Qualifying teams advance to a state tournament, and maybe even a national tournament!
Team Requirement Highlights:
General – Team members must make all decisions and do all the work on the Robot Game and Project. This includes deciding on strategy, building, programming, researching, choosing a problem and innovative solution, and presenting at a tournament.
Size – DA Teams have a strict cap of 5 members. * Not that strict as this year we have 7 on each of the 4 teams.
Team Members – Students must be between ages 9 – 14.
Coaches – An FLL team must have a minimum of two (2) screened Lead Coaches. 1 coach supervises robots and the other coach supervises projects.
Team Supporter – Teams can benefit from having adults present to help them but not be the actual team coach. If you agree to be a team supporter you will be matched with your child's team. This role requires the least time commitment as the supporters can coordinate the days they will be available with the team's coaches.
Learn more about these roles at the new FIRST training site to learn what those roles require. https://www.firstinspires.org/mentoring-and-coaching/story.html
Meetings – Team practices will take place each Thursday afternoon 3:15 – 5:00 when DA is in session [August 26th – December 16th*]. Meetings will be held in the Middle School STEAM labs, and Library each Thursday. All meetings must be held at the Middle School.
Saturday practice sessions are also available during a 9:30 – 12:30 time frame.
Sunday practice sessions are also available during a 1:00 – 4:00 time frame. Coaches and Team Supporters determine the time frame for Saturday or Sunday sessions [September 5th – December 19th*].
*Depending on the outcome of FLL qualifying tournaments held in November for the State Tournament.
Critical Details and Information:
Parents and their children commit to a team of up to five students over the course of five to six months from August to February*.
Students must be between ages 9 – 14
On each team, two parents serve as coaches (one coach supervises robots, and one coach supervises projects)
Two other parents serve as team supporters.
Without parental support, this enrichment is not possible.
In the past, we have fielded up to 3 teams with 4 to 5 students per team.
We have 7 EV3 Mindstorm kits with an abundance of spare parts all organized in portable storage containers.
We have 3 competition boards for practicing robot missions.
All supplies needed have been purchased by the DA Computer Science Department which will continue to support the FLL program.
Mr. Karl Schaefer has managed the FLL program for over five years and will assist with the teams with regards to registration, purchases, and overall coordination of practices and teams.